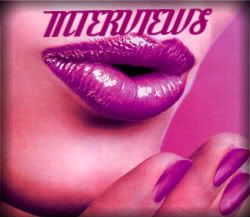 Well today for you guys I have a treat, im going to be interviewing Jaye wells. She is the author of such books like Red headed-Step Child and Mage in Black.
About Jaye
After several years as a magazine editor and freelance writer, Jaye Wells finally decided to leave the facts behind and make up her own reality. Her overactive imagination and life-long fascination with the arcane and freakish blended nicely with this new career path. Her Sabina Kane urban fantasy series is a blend of dark themes, grave stakes and wicked humor. Jaye lives in Texas with her saintly husband and devilish son. Her work is represented by Rebecca Strauss of
McIntosh & Otis
.
Fun Facts
Astrological sign: Aries
Favorite Color: Red
Favorite Food: Mexican
Favorite Cities: Charleston, San Francisco, New Orleans
Favorite Vampire: The Count from Sesame Street
1. When did you first realize you wanted to be a writer, what was the very first idea you came up with for a story...did it take long for you to get your first book published..
I had always written, but not with the intention of becoming an author. It wasn't until about seven years ago that I decided to finally try to finish something I started. I signed up for a writing class at my community college and complete my first novel that year. It took three books and about three years before I landed a contract for the Sabina Kane series.


2. When writng a story what comes first, the character or the idea for the novel...
It's usually a character and a situation. I'm not a plotter so I usually figure out the story as I go along, but I always need a good idea of the character and her situation before I get started.


3. We all have things going on in our lives, so i was wondering if there has been any thing in your life that has influenced your work..
Everything in my life influences my writing. It's the same, I think, for all writers. Every place we go, everyone we meet, everything we survive, every triumph--they all become fodder for stories.


4.i was wondering if you could tell me what catches your attention when your not writing, how do you spend your free time.. do you have things you like doing by your self or with your family.
I love to travel. Luckily I get to do a lot of it with the job, but my family and I take trips together whenever we have a chance. Other than that, I love to cook and experiment in the kitchen. I'm also getting into gardening, but that's a fledgling interest at this point.

5.Do you have any advise for anybody out there who is trying to make it as a writer....
Well, first of all, you have to write. That sounds silly, but a lot of people spend more time talking about writing than they do actually writing. Also, work on learning how to accept criticism. The only way to grow as a writer is to always strive to improve your craft. The best way to do that is to seek out people who will tell you what needs work. It's not easy, but it's preparation for once you become a professional and complete strangers are ripping your work apart on the internet.

6. now im gonna have to ask you about the sabina kane series, hoe did you come up with the idea of it...
Sabina spoke to me one day when I was driving down the road. "Digging graves is hell on a manicure." Boom! I pulled over and started jotting down notes. It started as a short scene that I wrote for a friend's flash fiction contest. But I enjoyed writing in her voice so much that I decided to turn it into a novel.


7.i know lots of my sexy ladies will want me to ask this next quesstion. i know we have talked about it loads between us lol....
how did you come up with the idea of Giguhl, what made you gave him his forked penis, by the way i must add i lve Giguhl i think he is so funny and helps make the books...
I knew fromt he beginning that I wanted a hairless cat demon in the books. I'm fascinated by how evil hairless cats appear. Giguhl just sort of grew from that. As for the forked penis, well, it just showed up on the page one day and I cackled so much I knew I had to keep it. Thanks goodness I did, too, because Giguhl has become a cult hero.


8.well we were all wondering if you would be able to share any of your latest work with us and when it will be on sale for us fans of yours.
My next book will be BLUE-BLOODED VAMP out in June.


9. which is your favourite character and why, but all so who is your least favourite character and why.....
Giguhl is probably my favorite because writing him is mostly fun and easy. His lines juts kind of roll off the brain. Sabina is a favorite, too, of course, but she's more difficult to write because she's so much more complex. As for least favorite? I don't know. I love them all in one way or another--even the evil ones.

10. is there a queistion that you are really sick of answering, and if iv all ready asked it im so very sorry lol..
I guess it's more of a generic question that all writers get, which is "Where do you get your ideas?" That question is difficult because we're wired to see ideas everywhere. And the implication is someone just needs the right idea and then they're golden. The truth is I have way more ideas for books than I'll ever get to--something several a day--but only the ones I commit to working for several months will ever become anything.

11. ok a totally random question for you because im a totally random person.. if you could have dinner wit anybody, weather they dead or alive who would it be
and where would you go with them and why
The first person who came to my head was Anne Rice. She was pretty influential on my work and I think she's pretty fascinating. THe second person who came to mind was Ryan Gosling. ;)

is there any thing you would like to say to your fans before we end our interview.......

I just want to thank everyone who has read the books and enjoyed them. Thanks for recommending them to your friends and preaching the Gospel According to GIguhl to the masses. You make all those days when I want to smash my face into the keyboard worth it.

thanks again for taking the time to talk to me, i know you must be very busy....an i know you have made alot of people very happy.
Thanks for having me!
--
Urban Fantasy Author
www.jayewells.com
***************************
Jaye has very kindle offered to give one very lucky winner a ebook copy of The Red Headed Stepchild.
RED-HEADED STEPCHILD DESCRIPTION:
In a world where being of mixed-blood is a major liability, Sabina doesn't really fit in. And being an assassin – the only profession fit for an outcast – doesn't help matters. But she's never brought her work home. Until now.
Her latest mission is uncomfortably complex, and threatens the fragile peace between the vampire and mage races. As Sabina scrambles to figure out which side she's on, she uncovers a tangled political web, some nasty facts about her family and some unexpected new talents. Any of these things could be worryingly life-changing, but together, they could be fatal …
So if you want to get your hands on a copy of this amazing book, all you have to do is.
1, be a follower
2, leave me a comment with your email.
yeah its that simple. so wat are you waiting for. xx