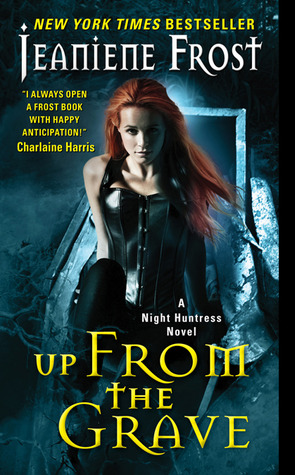 Title: Up from the Grave
Series: Night Huntress
Date Published:
28th Jan 2014
Deacription:
Lately, life has been unnaturally calm for vampires Cat Crawfield and her husband Bones. They should have known better than to relax their guard, because a shocking revelation sends them back into action to stop an all-out war…
A rogue CIA agent is involved in horrifying secret activities that threaten to raise tensions between humans and the undead to dangerous heights. Now Cat and Bones are in a race against time to save their friends from a fate worse than death… because the more secrets they unravel, the deadlier the consequences. And if they fail, their lives—and those of everyone they hold dear — will be hovering on the edge of the grave
Review: Well im very sad to say this is the last book in this series, In it we find out that someone is trying to mix Vampire and Ghoul DNA to make a super weapon. or so thats what the person thinks. but the true reason is that a demon has come up with an idea to make a war between Ghouls and Vampirs, which will leave the world for Demons alone.
there is a little girl in this book and when you hear her story you feel so sad for her, it turns out there experiments with the DNA works and the little girl is the result and she is brought up knowing nothing but fighting and death. But when Cat and the gang find out about her they make it there mission to free her and stop the war. I dont want to tell you any more of the story because with it being the last one I dont want to spoil it for you, just know that this book is filled with lots of shocking parts and some parts that will make you angry and maybe even some parts that might make you cry.. Just know that this is a rollercoaster ride of emotions that you just wont want to miss.
Another well written book full of all our favourite characters and a great story plot. Im wiping away the tears as I say good bye to them all in hope that maybe when the little girl is older they might make a reappearance .