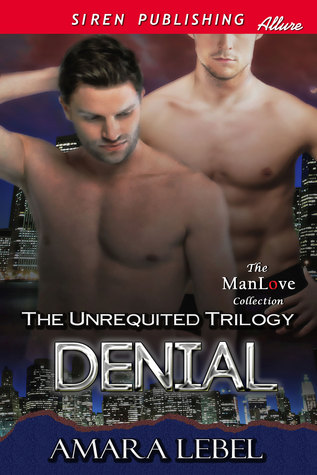 Title:
r Denial
Author: Amara Lebel
Series: The Unrequited Trilogy
Date Published:September 4th 2014
Description:
Tristan Bailey is a man who never takes no for an answer in anything he does or wants. Life treats him good as the CEO of his own airline, and one of New York's finest bachelors. Men and women alike fall at his feet, the world opens to him without complaint. There isn't much he desires. Until he lays eyes on Joshua that is.
Death has become a living nightmare for Joshua Malone. No matter what he does a past riveted with pain and destruction follows him, and forces him to make life decisions he would rather not. Josh never wanted to be reminded of the heartache that loving someone could bring, but he finds himself struggling to deny Tristan's advances.
Two different worlds collide in a heated meeting of longing and lust. Can the inner fears of one be laid to rest by the new found love for the other, or will they both be denied?
Review:
This Book starts at a charity auction with Tristan hating every moment of it, buying a drink and trying to avoid everyone he sits in the corner, but his time starts to look up and he sees something or should I say someone across the room that catches his eye. determined to meet them he sets off across the room taken over by a great need to meet this man but things don't go to easy for him when he gets interrupted.
Josh is taking part of a charity auction,he cant believe he is doing it. standing feeling awkward as people are bidding on him, when a man bids an extremely high bid that no one else is going to beat.
Josh and Tristan go on the date Tristan has won and things heat up between them and end up meaning more then they are ready for. having to deal with past events before either can settle on a future together
There is a lot more to this story but what fun would it be if I told you the full plot.*WINK*.
Oh boy where do I start with this one *wipes brow* first of all I am totally in love with Tristan, Tall with dark hair, with an air of power and control about him, he knows what he wants and sure doesn't hold back until he gets it. a player who for the first time in his life finally meets the man able to tame him.
Josh and his internal struggle of denying him self what he really wants because he cant let go of the past. I found this made it easier to imagine the sexual tension between the two. I don't normally read this type of book but I got asked to review it and thought id give it a chance. and I'm glad I did, it was nice reading something different and I couldn't put it down, I felt like I was on the journey with Tristan and Josh and I felt my heart turn to mush and maybe I got a little hot under the collar. If this type of book is what your into reading then I really would give it ago I guarantee your not going to be able to put it down. If you don't normally read this type of book then I would still say give it a go because you might find you like it more then you thought you would. I would truly say that Amara Lebel, has manged to write a really good erotic story that will leave you tingling in side.
RATING OF 5 LIPS
EXTRA RATING
Amara Lebel is a new author from a small town in Ireland where she lives with her hubby and gorgeous family. A huge fan of all things male, and considering that she is a little perverted, she often found herself lost in her own depraved mind. Fantasizing about steamy scenes of male love, sensual encounters, and so much more. With a little encouragement she eventually put pen to paper, and now takes pride in sharing her erotic stories of forbidden lust and enchanted romance with her fellow depraved sensualists.