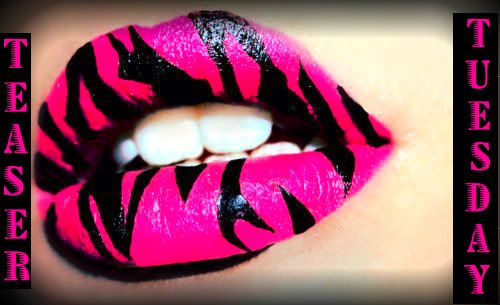 Teaser Tuesday
is a weekly bookish meme, hosted by MizB of Should Be Reading. Anyone can play along! Just do the following
.
.
1.
Grab your current read.
2.
Open to a random page.
3.
Share two 'teaser' sentences from somewhere on that page.
4.
Add the title and Author's name too, so that other TT participants can add the book to their TBR pile.
BE CAREFUL NOT TO ADD SPOILERS
********************************************
My Teaser this week comes from a book iv just finished.The Interview by Candy Nicks.

"Yours if you want it." He pulls up an armchair and sits down. "Go ahead, strut your stuff. Pretend I'm the client."

I take in a shaky breath. I can do this. How hard can it be?

"Anything I can get you Sir?"

"Depends on what you're offering."

"It's all there on the menu."
"And what are today's specials?"

"On the board, Sir."

He dips a hand into his pocket. Wow, that's a lot of dollars. He's up and stuffing it between my breasts.

"Private room," he says. "Now!"

Private room? Goodness, am I dumb, or what? Falls on me like a cartoon anvil.

The money's out, fluttering around his head, but he's too quick. At the door before I can get out. Grabbing the handle.
"Chicken."

He's always done this. Got my back up with just a look, a word.

"Get out of my way, Dane."

"Who would have thought it? Demon Hunter's a goddam chicken."

That does it. I grab his arm and yank him back into the chair. He's only half surprised.

I hitch up my skirt and sit astride him. Okay, now he's all surprised.
Well this is my teaser this week, I hope you enjoyed it. Why not check out my review. So now its your turn to come and tell me yours.