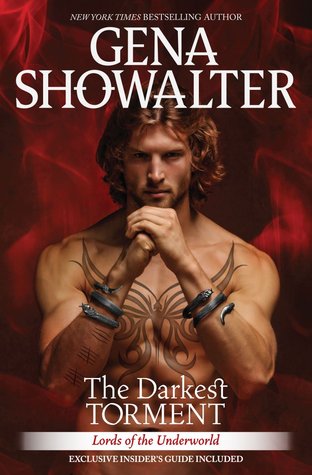 Driven to his death by the demon of Distrust, Baden spent centuries in purgatory. Now he's back, but at what cost? Bound to the king of the underworld, an even darker force, he's unable to withstand the touch of another...and he's quickly devolving into a heartless assassin with an uncontrollable temper. Things only get worse when a mission goes awry and he finds himself saddled with a bride—just not his own.
Famed dog trainer Katarina Joelle is forced to marry a monster to protect her loved ones. When she's taken hostage by the ruthless, beautiful Baden immediately after the ceremony, she's plunged into a war between two evils—with a protector more dangerous than the monsters he hunts. They are meant to be enemies, but neither can resist the passion burning between them...and all too soon the biggest threat is to her heart.
But as Baden slips deeper into the abyss, she'll have to teach him to love...or lose him forever.
In this book we meet Baden, once a lord of the underworld, once keeper of Distrust and once killed by his enemy's. Brought back to life to do Hades bidding in the war against Lucifer . While on one of his missions from Hades he has to retrieve a coin but its not any normal coin . Its a coin that will grant the owner one wish or so he thinks. While on this mission he comes accross a lady who captures his eye. Baden decides to take her hostage in hope it will help him get the coin but he doesnt bargain for the way his body will react to the girl.
Katarina a dog trainer forced to marry a man who she hates and fears. On her wedding day the strangest and scariest thing happens when a group of men turn up at the church and threaten her new husband and kidnap her.
While the two are together they slowly grow a relationship and they end up craving each but not wanting to admit how much they affected each other. Baden has to over come his inner demon and face the fact that having someone to love isnt a weakness but a strength.
Now Iv seen loads of reviews complaining that Baden wasnt the lord they were waiting for and they wanted william or cameo.But I think Badens story needed to be told. there has been so much talk about him right through the other books and you could tell that he was missed by the other lords . now the team is whole they can wrok together to kick Lucifer butt and find all the
artefacts.
I have to say this isnt my favourtie book out of them all but I did still still fully enjoy it and it was so much better then I expected. Gena Showalter has always an always will be one of my favortie authors. she is amazing with words and never fails to keep me interested in a book. her story lines are always flawless. my only problem is that I now have to wait a whole year for another lords of the underworld book to come out and thats not acceptable lol. In this book like all the others Gena has managed to create two characters that are totally the opposite to each and make them compatible. This book is full of laughs, love, frustration and adventure. I would totally recommend EVERYONE to read this series.