Today im coming to you all to ask you for some help. as most of you know my little girl was born with an illness called Incontinentia Pigmenti, IP for short. Ip can affect eyes,hair,teeth,seizures,strokes, learning difficulties heat intolerance. and a lot more. More info can be found here Incontinentia Pigmenti. I would love to introduce you to Gabriella and ask you to take the time to read Gabriellas story as told by her mum.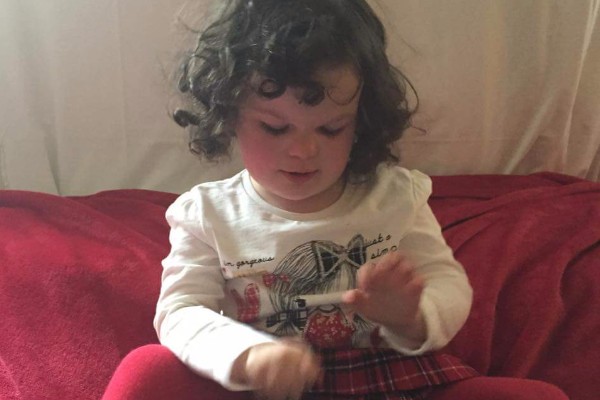 Gabriella is an amazing 3 year old little girl with a very rare condition called Incontinentia Pigmenti. By the age of seven months the condition had caused Gabriella to lose her sight. Despite this she is a funny, sociable and very clever little girl. Her visual impairment teacher is keen to start teaching Gabriella braille as she is sure that even though she is still young she will learn well. As her Mum I want to provide her with the best tools and a Perkins Smart Brailler is just what she needs as it provides auditory feedback unlike the standard braillers, something I know Gabriella will respond to. We are not in a position to afford one ourselves and so we are asking for any help you can give. It would be very gratefully received and I know it would help Gabriella massively in the future. If we reach our goal anything over what we need to purchase the brailler will be donated to Project Brailler a national campaign to help purchase one of these braillers for other visually impaired children.
Iv done things like this before and found that you have all been really helpful for any charity that I have helped and this one is very close to my heart. If you would like to help Gabriella then please follow the link below. For all people who help/Donate I will send them a free author swag pack that has been donated to me by some of my Author friends. just let me know below and ill get one posted to you.
We welcome any help yuo are willing to give. An please feel free to share away so we can get as much notice as we can.