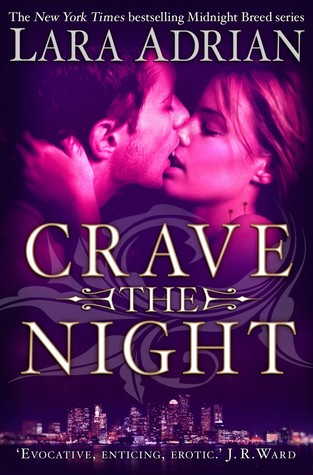 Born and raised to be an emotionless killing machine, Nathan is one of the most lethal Breed vampires in existence. A key member of the Order—an elite group of warriors charged with protecting both mortals and vampires—Nathan executes each mission with flawless precision and a total lack of mercy. Now he must pursue a powerful, hidden enemy. But Nathan's hard discipline and training are no match for the fierce pull he feels toward a young woman he has no right to desire—a woman of wealth and high social standing who has long been promised to another Breed male, and who may also prove to be the key to rooting out Nathan's elusive quarry.
Jordana lives a life of glittering privilege as a member of a prominent Breed family in Boston. Surrounded by fine things and fawning admirers, Jordana wants for nothing—until she crosses paths with a dark, intense warrior from the Order and finds herself swept into an impulsive, sizzling kiss that neither of them will forget. As much as she tries to deny her deep feelings for Nathan, Jordana cannot resist the craving to be near him, to break through his forbidding walls and see the man he truly is. But getting close to Nathan will thrust Jordana into a treacherous new world, forcing her to risk all she has and all she knows about herself and her past. And loving this seductive man could be the most dangerous temptation of all.
In this book we meet Nathan, a strong and deadly warrior of the order. he had a disturbed childhood growing up as one of Dragos Hunters. punished all his life. which has left him scared and unable to let people in. Forever holding everyone at a distance including family and friends. that is untill the day Jordanna walked into his life. all it took was one kiss to start the tables turning.
Jordanna grow up as a breedmate, adopted by a member of the breed and brought up as his own. Jordanna loved the man she called father and always did her very best to please him. but the older she grow the harder she found it to be the good girl she thought she had to be. But all went south when she came across a dark brooding warrior. She didn't know what it was but she was drawn to him from the start. something screamed to the person hidden beneth her surface. no matter what she she did she couldn't get him out of her system. .
The closer the two grow the more secrets and lies creep out of the wood work. Jordanna becomes entwined in a case Nathan is working on. and Jordanna finds out some truths about her family's past that could help the breed warriors come closer to ending a war that is coming before it reaches them. WIll true love win against old family feuds.
This has to be one of my favourite series, Lara is an amazing author who has an amazing/flawless way with words. I loved how she took two very different people and brought them together with a wonderful story of love and adventure. I loved how we see Nathan fighting through his past Demons and putting and end to his torments. While we see Jordanna find out who she really is. its enough to make you go weak at the knees and swoon lol.
Iv seen people say you dont need to read these books in order but in my oppion I think its better if you do. I think is you read them all you get a better feel of the characters and the story so far.
This book/series is a must read, if I had an endless supply of books id give everyone a copy ,so I could make sure they read it and get as hooked as I am lol.