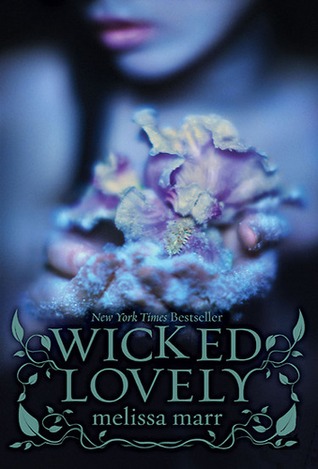 Title: Wicked Lovely
Author: Melissa Marr
Series: Wicked Lovely #1
D
ate Published:
June 12th 2007
Description:
Rule #3:
Don't stare at invisible faeries.
Aislinn has always seen faeries. Powerful and dangerous, they walk hidden in the mortal world. Aislinn fears their cruelty - especially if they learn of her Sight - and wishes she were as blind to their presence as other teens.
Rule #2:
Don't speak to invisible faeries.
Now faeries are stalking her. One of them, Keenan, who is equal parts terrifying and alluring, is trying to talk to her, asking questions Aislinn is afraid to answer.
Rule #1:
Don't ever attract their attention.
But it's too late. Keenan is the Summer King, who has sought his queen for nine centuries. Without her, summer itself will perish. He is determined that Aislinn will become the Summer Queen at any cost — regardless of her plans or desires.
Suddenly none of the rules that have kept Aislinn safe are working anymore, and everything is on the line: her freedom; her best friend, Seth; her life; everything.
Faery intrigue, mortal love, and the clash of ancient rules and modern expectations swirl together in Melissa Marr's stunning twenty-first-century faery tale.
Aislinn has always had the sight, the sight of faeries who she thought were always bad and evil. so she lived by 3 rules
1,Don't attract the faeries attention
But things don't seem to be going to plan lately because Aislinn is being followed by faeries and she doesn't know what to do about it, but as time goes on they become more insistent. They want Aislinn for something and she doesn't know what to do. she turns to her boy Seth for help and they both become really close but she isn't sure they can be together as it seems the faeries king wants her for his queen.
Keenan the Summer King had his powers bound when he was a child, unable to use them to stop his mother the winter queen. for years he watched her mistreat the fey unable to stop her. All he needed was his queen but he has searched for years and he is giving up hope. Until he comes across Aislinn, a mortal girl. there is something about her that draws him to her. could she be the one to unbind his powers.
Seth has been in love with Aislinn for so long but she never seemed to show any interest, until lately. she gets caught up in something she cant find her way out of and Seth makes it his mission to help her where he can. The two grow close but will it last or will the summer king come between them.
Well I haven't read this kind of book in a long time. I started going for more adult books, but when I came across this one I thought I would give it a try. and I have to say I'm really happy I did. It didn't take me long to get into this book and didn't take me long to finish either. I think I managed to finish it in a couple of days and I don't think iv done that in a long time. But I just couldn't put it down. it was so light and easy to read. Full of romance and suspense and even some action in there as well. this book really has something for everyone. I struggle to pin point one character that I love most in this book because they were all so well written. But I'm hoping the triangle between Keenan/Aislinn/Seth manages to work out.
Melissa Marrs writing is amazing, right from the go get she captures you and transports you into this magical world of the faeries. She kept me wanting to turn the pages faster as I got carried away with the story. If you haven't read any of Melissa Marrs work before id definitely tell you to give it a try, because I hadn't read any before and I'm so glad i had given it a go. I'm left left really looking forward to reading the next book. I think Melissa Mar might just become my next author crush as I work my way through the Wicked Lovely series.