Hosted by Book JourneyIt's Monday! What Are You Reading is where we share what we read this past week, what we hope to read this week…. and anything in between! This is a great way to plan out your reading week and see what others are currently reading as well… you never know where that next "must read" book will come from!
What I read last week.
Ready to get HOT?
Eleven top-selling authors have banded together to bring you
11 ALL-NEW titillating novels
of love, passion, romance, and thrilling suspense.
These sexy, alpha men
--from an orphaned tattoo artist, a partying rock star drummer with a secret past, a motorcycle club V.P. who's an undercover cop, an actor with abs of steel, a world-famous billionaire entrepreneur, a werewolf shifter lost in his wild wolf, a jazz musician with darker tastes, a private investigator with a hunger for more than justice, a professional skateboarder that she used to know, to a European nobleman with a touch of magic, and a hunky firefighter with a killer smile and a dangerous job--
will win your heart, your soul, and your body, because nothing less will satisfy them.
From first kisses to dangerous encounters and second chances at love, we've gathered all 11 novels in one big box, giving you a heart-pounding collection filled with confident, sexy, and mysterious alpha men you'll fall madly in love with.
All these novels are all brand new and
exclusive to the Red Hot Alpha Box Set, and they are
NOT available anywhere else!
If you see your favorite author in here, then
YES, this is a new story that you haven't read yet
What I am reading now.
The climactic novel in the bestselling Midnight Breed series, of which BookPage raves: "If you like romance combined with heart-stopping paranormal suspense, you're going to love this book."
In the dark of night, a blood war escalates within the hidden world of the Breed. After maintaining a fragile peace with the humans who walk beside them unaware, a single act of retaliation has put the vampire nation at risk of discovery. It falls to the Order—a cadre of Breed warriors pledged to protect their own and humankind alike—to stop Dragos, the power-mad vampire, before his push for domination explodes into catastrophe.
At the center of the Order's quest is Sterling Chase, whose biggest battle is the one he wages against his own savage nature. But when his eyes meet those of Tavia Fairchild, Chase finds himself drawn to the woman—and convinced she is something much more than she seems. And while everything logical warns Tavia against getting close to Chase, she cannot deny that he stirs something ravenous within her. As the Order's enemy mobilizes for the battle of the ages, Chase and Tavia are thrust into the heart of the violence. With time running out, they must find a way to defeat Dragos once and for all—or die trying.
"Stunning . . . filled with passion
, treachery, and danger . . . Adrian pulls out all the stops."—
RT Book Reviews
What I plan to read next.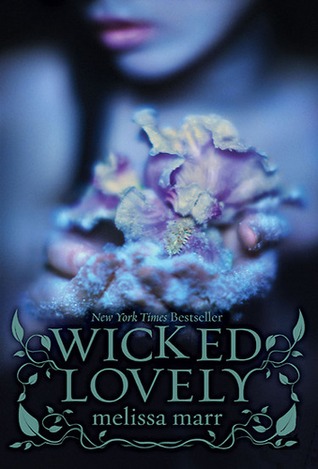 Rule #3:
Don't stare at invisible faeries.
Aislinn has always seen faeries. Powerful and dangerous, they walk hidden in the mortal world. Aislinn fears their cruelty - especially if they learn of her Sight - and wishes she were as blind to their presence as other teens.
Rule #2:
Don't speak to invisible faeries.
Now faeries are stalking her. One of them, Keenan, who is equal parts terrifying and alluring, is trying to talk to her, asking questions Aislinn is afraid to answer.
Rule #1:
Don't ever attract their attention.
But it's too late. Keenan is the Summer King, who has sought his queen for nine centuries. Without her, summer itself will perish. He is determined that Aislinn will become the Summer Queen at any cost — regardless of her plans or desires.
Suddenly none of the rules that have kept Aislinn safe are working anymore, and everything is on the line: her freedom; her best friend, Seth; her life; everything.
Faery intrigue, mortal love, and the clash of ancient rules and modern expectations swirl together in Melissa Marr's stunning twenty-first-century faery tale.
this is me this week and last. hope your all having a great start to you week.