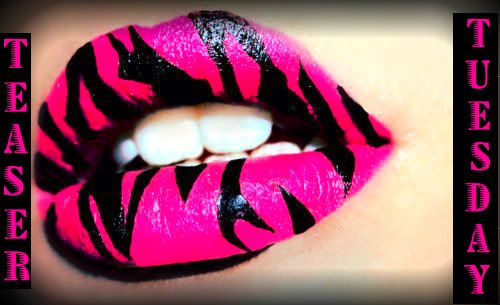 Teaser Tuesday
is a weekly bookish meme, hosted by MizB of Should Be Reading. Anyone can play along! Just do the following
.
.
1.
Grab your current read.
2.
Open to a random page.
3.
Share two 'teaser' sentences from somewhere on that page.
4.
Add the title and Author's name too, so that other TT participants can add the book to their TBR pile
I know it took me a while to read the last book, but Iv been waiting for this one for ages, Chase is one of my favourite characters in this series and im on edge to start reading :D . xx
that made the fact that he was in a jail with his hands cuffed behind his back seem inconsequential. He walked ahead of the others, all long limbs and a loose gait that felt more animal than human. There was a slight limp in the otherwise smooth movement of his legs, she noticed. A spot of blood rode on his right thigh, a deep red splotch that soaked into the lighter fabric of his sweats. Tavia watched the stain grow a little with each long stride that carried him across the length of the lineup area. She shuddered a bit inside the warmth of her winter coat, feeling queasy. God, she never had been able to stand the sight of blood.
Over the speakers, one of the police officers instructed the man to stop at the number four position and face forward. He did, and when he was standing facing the glass, his eyes fixed squarely on her. Unerringly so.
A jolt of awareness arrowed through her. "Are you sure they can't—"
"I promise, you're perfectly safe and protected in here," Avery assured her.
And yet that scathing blue gaze stayed rooted on her, even after the last of the three other men was led into the lineup and made to face forward. Those other men slouched and shifted, anxious eyes held low beneath inclined heads or darting around and seeing nothing but their own reflection in the large pane of one-way glass.
"If you're ready," prompted the detective from beside her.
Now that was my wow this week, why dont you come and share yours. x