Title: His Sire's New Pet
Date Published: February 13th 2012
Description:

As Master vampire Alan returns from a fight against demons, he is furious. His Childe, Jeremy, acted foolishly on the battlefield and was hurt by a demon. For this, Alan will punish him, and Jeremy knows and accepts it, kneeling at his Sire's feet as soon as he enters their lair. A human accompanied Jeremy home, however: his lover and submissive, Tyler.
Right away, Tyler claims responsibility for Jeremy being wounded and asks to be punished in his place. Alan is initially reluctant to bring a novice into the relationship he shares with Jeremy, but the appeal of playing with a new sub for a night wins him over – and it doesn't hurt that Jeremy and Tyler look very pretty kneeling next to each other.
Will Tyler endure Jeremy's punishment until its very end, or will it prove too much for him? And how does Jeremy feel about sharing his lover with his Sire for one night… or maybe more than that?
Alan returned home after battle not a very happy man, waiting for Jeremy to arrive. But Alan was not very happy when Jeremy did not arrive alone. Tyler had come with Jeremy to ask that he take Jeremy punishment .
As Alan left the room the other two men readied them selves for what was to come next. Then the BDSM kicks in. All three learn where each others boundaries are but no one ever forgets that Alan is in charge of everything.
This short story was a very interesting read. Based round three Men, Vampire and Human and there sexual tension. We travelled along on this sexual journey with them and I have to say the ride was very hot. Kally is amazing with her writing and She left amazing little flutters in the bottom of my tummy. I think I could of read more about these three and where there relationship went . I don't normally read a lot of BDSM because I feel a lot of author struggle to make you feel a connection to the story and its characters and all you get is a book full of boring sex, but I'm really happy to say that Kally has managed to drag me into her little BDSM world and I'm looking forward to reading more.
Rating of 5 lips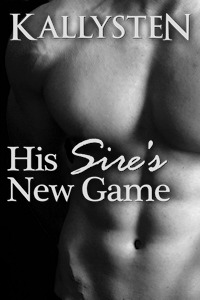 Title: His Sire's New Game
Date Published: February 10th 2013
Description:

After a night spent with two vampires – a night that left him sore from a spanking… and more – Tyler tries to sneak out without disturbing them. Doing so, he earns himself another punishment from Master vampire Alan. Only after a new spanking does he have permission to leave, as well as permission to return later in the day.
Before dealing with Tyler, Alan ordered his Childe Jeremy not to intervene. Jeremy, however, can't stand being left out and breaks his Sire's orders. His punishment, although entirely different from Tyler's, turns out to be just as agonising, especially when Alan draws a painful confession from him.
It all started as one night, but all three men were quick to decide they wanted more. For that, they'll have to be honest with each other and themselves and together figure out the rules of this new game.
Review: This story takes off where the other left off, the morning after a night of punishment and passion. But Alan was not very happy when Tyler tried to leave early the next morning without permission and this lead to another punishment. While listening to Tyler getting spanked Jeremy struggles with jealousy over being left out. But Alan soon reassures him.
In this book we see Jeremy dealing with emotions he wasn't used to dealing with Jealousy and regret for past incidents. Jeremy also struggles with his place in the group and needs Alan to remind me him of where he belongs.
I loved this book, maybe a little more then the last because in this one we get to see a little bit more emotion. Again Kally managed to hook me from the start which isn't an easy thing to do with either short reads or BDSM. because a lot of authors struggle to get the right amount of details and story into there writing. but Iv never found that with any of Kallys short reads. she has an amazing way with words. my only warning to you about reading these books is, if your not a fan of BDSM or your a little prudish then these books are not for you, but if your a girl who likes to get her kink on then you will love every little bit of them. now I cant wait to start the next book.
Title: His Sire's New rules
Date Published: October 7th 2014
Description:
The first night Dom Alan shared with Tyler and Jeremy was all about punishments for the two submissives. It was also the first time in years that Alan, a Master vampire, had played with two men, each one so different from the other: human and vampire, novice sub in the world of BDSM and experienced switch, one who enjoys pain and one who'd rather avoid it…
The second night quickly became a first step toward establishing new boundaries between the three of them. And while Tyler can't stay the night, Alan has just the toy to keep his new pet's mind on what happened so far… and what will happen when they meet next.
In a world where otherworldly demons attack every night, there's a time for games and a time to fight, and as it turns out the three men work just as well together on the battlefield as they do in the bedroom. At work or at play, though, it all comes down to the same thing for the three of them: following the rules, and trusting the men standing—or kneeling—next to each of them
Review.
For Jeremy the rules had changed, no longer Tyler's Dom but now the submissive and this was all down to Alan. Jeremy struggles with the new Rules but is pleased with himself for sticking to them. They also have to face a bit of prejudice in this book and have Tyler question a few things about vampires. The 3 work together pushing the boundaries of there relationship and the boundaries of BDSM.
I have to say I love this book, I think it was my favourite book out of all three. I think they all seemed closer in this book and you seen a more emotional side creeping into it. Maybe its the soft side of me creeping out. Again Kalley managed to get the right about of detail and information into her short read, which most other authors struggle to do. I know iv said this about the other books but I really think she has a knack for it. Kalley has a knack of leaving flutters in my belly when I read what these devilish men get up to and I cant wait to see what the next instalment has for me.
ABOUT THE AUTHOR!!
Kallysten's most exciting accomplishment to date was to cross a few thousand miles and an ocean to pursue (and catch!) the love of her life. She has been writing for over fifteen years, and always enjoyed sharing her stories and listening to the readers' reactions. After playing with science fiction, short stories and poetry, she is now trying her hand, heart and words at paranormal romance novels.
To see her other stories, including free short stories and sample chapters, visit http://kallysten.net. You can also find her on Facebook, Twitter, or subscribe to her newsletter to be informed about new releases and giveaways.
1, For those who don't know who you are, could you please tell us a little about your self.
Hello, I'm Kallysten and I'm a romance-aholic!
I've been writing stories for over twenty years, and was first published almost ten years ago. If you look at my backlist, it can seem all over the place. I write M/F, M/M and menages, I write sweet romances, erotica, and all 'heat levels' in between, I write 'plain vanilla' sex and kink, I play with vampires, magic, and occasionally an all-human cast, from short stories to long novels, standalones and series...
The one thing all my books have in common - I hope - is that in the end, it's always about love. Some characters are in love from the start, others fall slowly, and a few fight back and try to pretend they don't feel that way every step of the journey. It's a little like that in my latest release 'His Sire's New Rules': if you asked the three men involved directly, they'd all say it's all about sex and domination games, but the little looks, the small touches, the occasional endearments tell a different story... and that's the story I enjoy telling.
2,here at SBC we love meeting new authors. Now Could you tell us a little of what you have in the pipeline at the minute, what new books can your fans expect to see coming out soon?
My next release will be 'Bloodchild', part 3 of my New Adult vampire/fantasy series the QuickSilver Codex about a young woman who is brought into a magic world and told she's meant to rule it. That she is told so by handsome twins who call themselves her bodyguards does tend to complicate things a bit... and so does the current ruler of this world!
After that will probably be 'No Crayons On The Frontline'. I wrote a short story written as an exchange of letters for the Shades of Pink charity event (still going on until November 15th!) and I enjoyed it so much I've been adding to it and expanding the relationship between the characters.
And in 2015 over a span of several months I'll release a 5-part vampire M/M/F story titled 'The Serenade Serial'. It's a sort of companion to the 'Ward of the Vampire serial' which I finished this year, with one of the secondary characters from Ward taking center stage.
3. when did you realise you wanted to be a writer, what was your first idea you ever had.
I've been inventing stories for as long as I can remember, although it was a very long time before I even dreamed others might like to read them. I wrote down my first story in middle school when I was 14. It was a sci-fi, space opera kind of story, with psychic powers, lost spaceships and twins separated at birth.
4, know most of us have days where our brains don't work right, some more then others *cough* *me* *cough.* And I'm sure it's the same for you sometimes, so do you ever experience writer's block, and what do you do to pull yourself out of it.
I do, yes, alas. My solution relies on the fact that I usually have several WIPs at any given time. (I just looked at my files, and right now I have 7, going from bare-bones outline to almost finished novel!) If my muse is not coperating at all, I'll challenge myself to write 100 words for any of these WIPs. That's just one or two paragraphs, so it doesn't feel quite so daunting as wanting to write a full chapter, or even a scene. Sometimes, I stall at 97 or 98 and couldn't write those last couple of words to save my life. And sometimes, I forget to look at the word count and keep going until I suddenly have two pages and the block is gone.
5,I was wondering if you could tell me what catches your attention when you're not writing, how do you spend your free time. Do you have things you like doing by yourself or with your family.
When I'm not writing (or reading) I'm often quilting. I just love putting pieces of fabric together and building something different from them. Also, one of the things that the Hubby and I share is our love for movies and watching new flicks together - and dissecting them afterwards - is something we do a lot, either at the theater or at home with DVDs from the library.
6. Do you have to travel loads with your job, is there any where that you haven't gone yet that you would just love to go?
I don't travel much, actually. I keep wanting to go to writers and readers conferences, but something always seems to get in the way! I went to Venice in Italy as a teen, and I'd love to take the Hubby there. Australia also intrigues me; a friend told me about her trip there and it sounded fabulous.
7, Name one entity that you feel supported you out side of your family. and why.
[hmm can't come up with anything interesting, can we skip this one?]
8,all my girl followers have a favorite book guy, and havng spoke to some of the guys, they have a favourite book girl... so Tanith tell me the truth who is your favourite book guy/girl and why?
[Tanith? methinks it should be 'Kallysten' in there :P ]
Weeeeeell if I really have to pick one... I hope you'll forgive me for naming one of mine, but it has to be Anando. He's the hero from one of the first stories I wrote (Out of the Box) and all combined I probably wrote more about him and his lady than about anyone else - and even now, I've started another story with him. I can't seem to leave him to his happy ending, and just need to revisit him over and over...
9,I would like to thank you again for taking time out of your busy life to answer these questions because I know you're a very busy person. Is there anything you would like to say to all your fans out there.
To my existing fans and readers, I'd like to just say a big thank you for their support over the past (almost) ten years. I cannot say how much I appreciate all of them!
And to new potential readers I'd say... Hello! Come grab a freebie or an excerpt and see if my little stories are your cup of tea!
Thank you so much for having me, it was fun!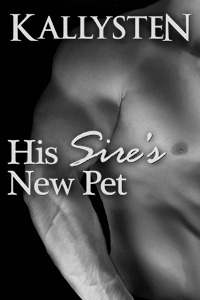 Now Kallysten has said she will give one lucky follower a copy of the first book in this series
. To be in for a chance to win a copy leave me a message/comment with your email address and one person will be picked using an online number picker, easy as that. and if you like the book and are interested in finding out more about Kallysten then all you have to do is follow the links That are written above.