Teaser Tuesday
is a weekly bookish meme, hosted by MizB of Should Be Reading. Anyone can play along! Just do the following
.
.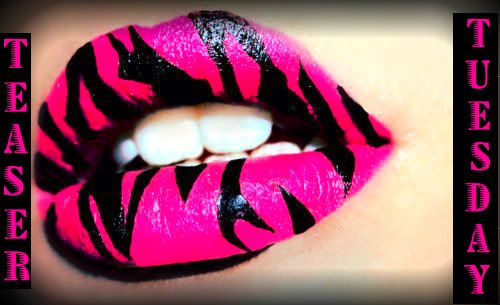 1.
Grab your current read.
2.
Open to a random page.
3.
Share two 'teaser' sentences from somewhere on that page.
4.
Add the title and Author's name too, so that other TT participants can add the book to their TBR pile
"Gage!" She dropped her purse and threw herself against his body. She breathed in his spicy cologne and underlying Gage-ness. His chest was warm and hard under her cheek. "You're here! I thought you weren't coming until tomorrow."
"Surprise, baby girl." He gave her a quick squeeze with his forearms before she stepped back. Then he waggled the bottles at her. "I should have waited until all of your exams were done, but we'll be in Kingston and then Ottawa after that, and you were crowing on Facebook earlier so I thought it was safe tonight."
She hopped up and down on the spot, clapping her hands. "Oh my god, this is the best surprise. And I've got pizza on the way!"
He chuckled. "I know, you said. Let me guess, vegetar—"
"Shut up, it's good for you. And if you'd told me you were coming, I'd have ordered something else for you too."
"And miss a full-on Ember-being-surprised body hug?" His slow, sexy smile covered his whole face, crinkling his eyes and sharpening his jaw. "That was totally worth a few mushrooms and peppers on my cheese wheel."
She stepped back. She might do something stupid if she stayed too close. Like let herself think his smile was intentionally sexy, and not just an innate part of Gage. Unfortunately, stepping back just meant she could see the whole package. Heavy-sole Doc Martens, faded black jeans anchored by a heavy leather belt, and a soft grey t-shirt that pulled up just enough to show off his slightly fuzzy abs when he lofted the bottles above his head again.
That was my Teaser this week, now I cant wait to see yours. so please come and share.