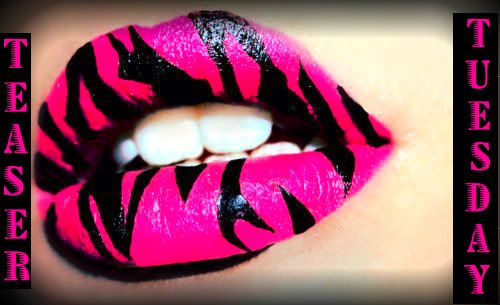 Teaser Tuesday
is a weekly bookish meme, hosted by MizB of Should Be Reading. Anyone can play along! Just do the following
.
.
1.
Grab your current read.
2.
Open to a random page.
3.
Share two 'teaser' sentences from somewhere on that page.
4.
Add the title and Author's name too, so that other TT participants can add the
book
to their TBR pile.
BE CAREFUL NOT TO ADD SPOILERS
********************************************
She didn't see him as she padded in barefoot, wearing a snow white swimsuit that was sliced up the sides and held together by delicate bronze rings. The front of it plunged low, another ring centered between the perfect swell of her breasts. The daring suit was almost as big of a surprise as seeing her here; Tegan would never have guessed the reserved Darkhaven widow to look so right in such immodest clothing. And goddamn, did she ever look right. A deep, primal awareness stirred in him as he watched her draw away the

spa towel she had slung around her neck. She let it fall to the tiles at the water's edge, then stepped down onto the first submerged step at the shallow end of the pool.




That was my Teaser and I hope there is more to come. I hope you enjoy it as this is a series you really need to read.