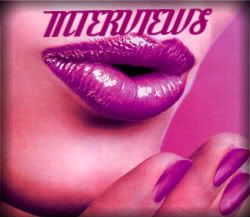 Well guys today Iv got a special treat for you today.Today im going to be interviewing a lovly man named Simon Lipson. Before I get to the interview let me give you some more infomation on him
.
Simon Lipson was born in London and took a law degree at the LSE. After a spell as a lawyer, he co-founded legal recruitment company Lipson Lloyd-Jones in 1987. In 1993, Simon took his first tentative steps onto the comedy circuit and has since become an in-demand stand-up and impressionist across the UK, as well as a regular TV and radio performer/writer. His broadcasting credits include Week Ending, Dead Ringers, Loose Ends and Fordham & Lipson (co-wrote and performed own 4 part sketch series) on Radio 4; Interesting...Very Interesting and Simon Lipson's Xmas Box on Radio 5 and
And
This Is Them on Radio 2. He is also an experienced voice artiste who has voiced hundreds of advertisements as well as cartoons and documentaries. His first novel, Losing It, a thriller, was published by Matador in 2008. Simon is a columnist for Gridlock Magazine (
www.gridlockmagazine.com
).His next novel, 
Standing Up
, will be published by Lane & Hart in Autumn 2012. 
www.simonlipson.blogspot.co.uk
Buy links – paperback and Kindle:
My show,
The Accidental Impressionist
, is on at the Camden Fringe 20 – 23 August @ 8pm. Everyone welcome! Details and tickets here
:
http://j.mp/JDPBnu
Now im going to give you some infomation on Simons book.
Song In The Wrong Key Blurb
Michael Kenton is a middle-aged man living in middle-class comfort with wife Lisa and daughters Millie and Katia. Drifting complacently towards retirement, Mike's world is turned upside-down when he is thrown unexpectedly onto the career scrapheap. 
While Lisa's career sky-rockets, Mike slobs around in his track suit playing guitar, rekindling his teenage love affair with pop music. Knowing Lisa wouldn't approve, he plots a secret 'comeback' at a grimy Crouch End bistro where music executive Ben, desperate and out of time, asks if he can enter one of Mike's songs into the Eurovision Song Contest. With nothing to lose, Mike focuses on Eurovision but quickly finds himself staring down the barrel of low level fame. His crumbling marriage now page five news, he must choose between his musical dream and mending his broken family, a task complicated by the re-appearance of ex-love of his life Faye.
A laugh-out-loud comedy about love, family, friendship and Euro- tack by acclaimed stand-up and comedy writer Simon Lipson. 
1. Hi, 
Simon, could you tell us a little bit about yourself, for those who don't know who you are and haven't seen your work.
Hi Susie. Well, I used to be a lawyer but
please don't
hold that against me. I gave up law – or rather, it
gave
me up – in 1987 and I set up a legal recruitment company with my sister called Lipson Lloyd-Jones which now has offices in London and Manchester. I ran
the company
for many years but, in 1993, I decided to have a crack at stand-up comedy and everything changed. Suddenly I was performing all over the country and abroad, appearing on TV and radio and voicing adverts. It became increasingly difficult to maintain a
sensible
professional life in addition to a performing/writing career, so I left the company in the capable hands of my sister who does a far better job of running it than me. I'm still involved, but only as a consultant. I'm still performing – my show, The Accidental Impressionist – will be on at the Camden Fringe on 20 – 23 August, so please come along! I also
do lots of voiceovers,
write
comedy
scripts
and am hard at work on my next novel, Standing Up
 2. When did you first realize you wanted to be a writer, what was the very first idea you came up with for a story...did it take long for you to get your first book published...
I'm not sure I ever
actually
decided to be a writer. But I thought I could write. English was my best subject at school
by a distance
and I always dreamed
about
writing a book. I suppose the
problem was a lack of belief.
It always struck me as solitary and
daunting
, but I finally got started on a psychological thriller called Losing It about 18 years ago. Halfway through, I realised it was rubbish and left it for another 10 years before starting again.
I decided to take the traditional publishing route and
had
huge
interest from
, amongst others,
J K Rowling's
literary
agent – which would have been a great launching pad – but
I
walked away when they started tinkering with my 'artistic vision'. What an
absolute
idiot!
I shelved the book again before finally publishing it through Matador in 2008. I still regret the way I handled that. Losing It is
about a modern woman who can't accept her lover's sexual and romantic past
, an idea
based on my own retrospective jealousy of the woman who has now be
en my wife for 22 years!
We got past it, but my protagonist fails with tragic consequences.
3. When writing a story what comes first, the character or the idea for the novel...
Story, albeit the protagonist
s
ha
ve
to have a very clear
set of
character
istics
and
life view
s
before I can get cracking. I don't plot my books studiously, but have a good idea of where
they
should
start and end. That said, things change as I write and I'm
pretty flexible; I'm
not wedded to any particular storyline or plot
if the tangent takes me somewhere more interesting
.
I'm quite drawn to honest
,
stead
y
-Eddy characters who are suddenly thrown into the limelight. My next book, Standing Up, has
a similar
theme, as does a film script which is being considered by the BBC.
I'm now concentrating solely on contemporary humorous fiction with a romantic flavour, and the tenor of my books is
necessarily based on
my own attitudes and sense of humour.
4. We all have things going on in our lives, so I was wondering if there has been anything in your life
that has influenced your work.
Nothing specific, but so much of what I write
emanates
from things that apply to or have happened to me. For example, I'm a
married man
with two daughters, just like Mike Kenton in Song In The Wrong Key, and
I rather like writing about the family dynamic.
The kids in the book bear strong similarities to my own, albeit Mike's wife couldn't be more unlike mine (although they are both beautiful women – Mrs L might read this!). Another theme in the book, that of an unrequited yearning for someone , also has personal – albeit very distant - echoes for me. L
ike Mike, I used to harbour dreams of being a pop star before real life got in the way. My next book is about a solicitor who becomes a stand-up comedian so, as you can see, I'm not very imaginative!
5.i was wondering if you could tell me what catches your attention when you're not writing, how do you spend your free time.. do you have things you like doing by yourself or with your family.
I'm hugely into sport and can easily waste entire days watching football, tennis, athletics etc. I used to play a lot myself, but bad knees now restrict me to cycling which I do every day without fail (otherwise I'd be
a colossal tub of lard
). I love good comedy – mainly US sitcoms like Seinfeld and Curb - but
will watch
anything well written and acted; cinema (foreign and indie especially) and fringe theatre are passions.
As is chocolate; indeed, I'll eat sweets and snacks till the cows come home. I've recently lost 3 stone and am hanging on to slimness for grim life.
I'm a voracious reader, often
shrivelling
into a prune in the bath when I
become
too engrossed.
I'm rather good at being on my own, which is no bad thing if you want to write. That said, I usually write in coffee bars because I need some hubbub around me to
maintain energy levels. Plus, i
f I worked from home, I'd spend all day watching Seinfeld repeats.
And eating chocolate.
My daughters are now 16 and 18 and need me less and less which, I suppose, is life. We're incredibly close though and still do quite a lot together as a family
like going to the Edinburgh Festival
.
Luckily, my wife and I get along incredibly well, so we go out on our tandem every weekend. I do all the work, of course! We also love eating out together or with friends. The usual dull suburban stuff!
6. Ok random question time. I love these. What's the biggest secret you have ever kept.
Not telling you. Ha! Well what did you expect me to say!? Ok, how about…not telling anyone I was trying out as a comedian
?
Kept that under my hat until I was good enough to be seen by family and f
r
iends.
7, it's been really nice having you here at Satin's Bookish Corner, are there any last words you would like to share with my followers.
Thank you. It's been my pleasure. I suppose it would be great to hear what your followers think of Song In The Wrong Key. It's edgy and a bit profane here and there, but I've focused on comedy with a hint of romance
in a contemporary setting
, so I hope it has wide appeal. I
t
has only
received
4 & 5 star reviews so far on Amazon and
Goodreads
so if anyone hates it, please remember that I'm a
sensitive creative type who can't handle criticism!
Well Simon was such a fun guy, I hope you all enjoyed hearing what he had to say. Please feel free to stop by and let Simon know your thoughts on him and the book. xx