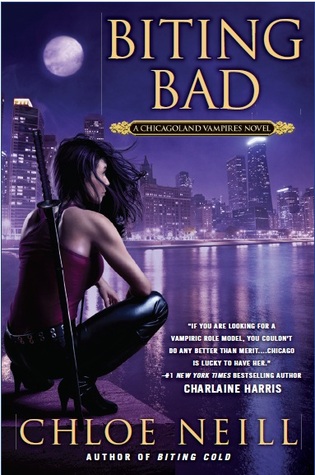 Title : Biting Bad
Author: Chloe Neill
Series: Chicargoland Vampires
Date Published: February 5th 2013
Description:
Merit has been a vampire for only a short while, but she's already seen a lifetime's worth of trouble. She and her Master, centuries-old Ethan Sullivan, have risked their lives time and again to save the city they love. But not all of Chicago is loving them back.
Anti-vampire riots are erupting all over town, striking vampires where it hurts the most. A splinter group armed with Molotov cocktails and deep-seated hate is intent on clearing the fanged from the Windy City come hell or high water.
Merit and her allies rush to figure out who's behind the attacks, who will be targeted next, and whether there's any way to stop the wanton destruction. The battle for Chicago is just beginning, and Merit is running out of time
Review: This book starts out with Merit and Mallory who are out for a catch up . All is going well when a riot breaks out at the place where the vamps get there blood supply.Yes the riots are humans trying to rid Chicago of vamps.
Merit and the guys set out to try and find out why the riots have started and who is behind them, while there doing this more riots break out and some of the characters are hurt. ( big shock coming) . Merit thinks she knows who is behind it but she has to find the proof.
Its valentines day when the riots kick off and Ethan and Merit find it hard to find the time to spend the time together. but they both realise they are finally in a good place in there relationship and are happy .
There is a lot more to this story but I dont want to spoil it for anyone by telling the full story. Again another well written book by Chloe Neill, funny, fast paced with some kick ass characters. I have not read one book in this series that I haven't loved. and really hoping the next one will be just as good and wont let me down.
RATING OF 5 LIPS