Hosted by Book JourneyIt's Monday! What Are You Reading is where we share what we read this past week, what we hope to read this week…. and anything in between! This is a great way to plan out your reading week and see what others are currently reading as well… you never know where that next "must read" book will come from!
What I read last week- Review to come.
The climactic novel in the bestselling Midnight Breed series, of which BookPage raves: "If you like romance combined with heart-stopping paranormal suspense, you're going to love this book."
In the dark of night, a blood war escalates within the hidden world of the Breed. After maintaining a fragile peace with the humans who walk beside them unaware, a single act of retaliation has put the vampire nation at risk of discovery. It falls to the Order—a cadre of Breed warriors pledged to protect their own and humankind alike—to stop Dragos, the power-mad vampire, before his push for domination explodes into catastrophe.
At the center of the Order's quest is Sterling Chase, whose biggest battle is the one he wages against his own savage nature. But when his eyes meet those of Tavia Fairchild, Chase finds himself drawn to the woman—and convinced she is something much more than she seems. And while everything logical warns Tavia against getting close to Chase, she cannot deny that he stirs something ravenous within her. As the Order's enemy mobilizes for the battle of the ages, Chase and Tavia are thrust into the heart of the violence. With time running out, they must find a way to defeat Dragos once and for all—or die trying
What I am reading now.
Aislinn has always seen faeries. Powerful and dangerous, they walk hidden in the mortal world. Aislinn fears their cruelty - especially if they learn of her Sight - and wishes she were as blind to their presence as other teens.
Rule #2:
Don't speak to invisible faeries.
Now faeries are stalking her. One of them, Keenan, who is equal parts terrifying and alluring, is trying to talk to her, asking questions Aislinn is afraid to answer.
Rule #1:
Don't ever attract their attention.
But it's too late. Keenan is the Summer King, who has sought his queen for nine centuries. Without her, summer itself will perish. He is determined that Aislinn will become the Summer Queen at any cost — regardless of her plans or desires.
Suddenly none of the rules that have kept Aislinn safe are working anymore, and everything is on the line: her freedom; her best friend, Seth; her life; everything.
Faery intrigue, mortal love, and the clash of ancient rules and modern expectations swirl together in Melissa Marr's stunning twenty-first-century faery tale.
What I plan to read next.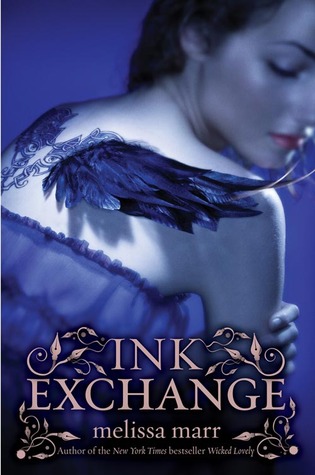 Unbeknownst to mortals, a power struggle is unfolding in a world of shadows and danger. After centuries of stability, the balance among the Faery Courts has altered, and Irial, ruler of the Dark Court, is battling to hold his rebellious and newly vulnerable fey together. If he fails, bloodshed and brutality will follow.
Seventeen-year-old Leslie knows nothing of faeries or their intrigues. When she is attracted to an eerily beautiful tattoo of eyes and wings, all she knows is that she has to have it, convinced it is a tangible symbol of changes she desperately craves for her own life.
The tattoo does bring changes—not the kind Leslie has dreamed of, but sinister, compelling changes that are more than symbolic. Those changes will bind Leslie and Irial together, drawing Leslie deeper and deeper into the faery world, unable to resist its allures, and helpless to withstand its perils..
this is me this week and last. hope your all having a great start to you week.
Dont forget to join in on my latest giveaway by clicking the link below. you can be in with a chane to win one of two signed books and swag.