Hosted by Book JourneyIt's Monday! What Are You Reading is where we share what we read this past week, what we hope to read this week…. and anything in between! This is a great way to plan out your reading week and see what others are currently reading as well… you never know where that next "must read" book will come from!
Well iv managed to get a lot of reading done this week but first lets start with what im reading right now.
WHAT IM READING!!!
Right now im reading Up from the Grave by Jeaniene Frost, Im not very far into it but got right into it. I forgot how much I loved this series.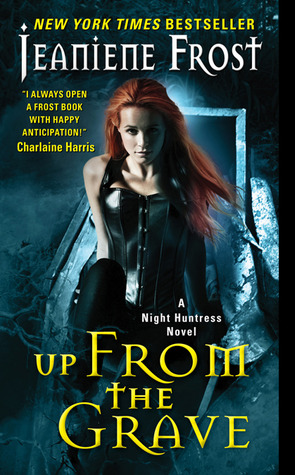 Lately, life has been unnaturally calm for vampires Cat Crawfield and her husband Bones. They should have known better than to relax their guard, because a shocking revelation sends them back into action to stop an all-out war…
A rogue CIA agent is involved in horrifying secret activities that threaten to raise tensions between humans and the undead to dangerous heights. Now Cat and Bones are in a race against time to save their friends from a fate worse than death… because the more secrets they unravel, the deadlier the consequences. And if they fail, their lives—and those of everyone they hold dear — will be hovering on the edge of the grave.
WHAT I READ LAST WEEK AND REVIEWED!!
I read two and reviewed two books last week. If your interested in my reviews then please click the link. REVIEWS
A woman caught between two worlds...
The man she can never have...
The Kine and the Alfar, enemies since before Odin sat upon the throne of Asgard...
When Charlee Montgomery discovers Asher Strand's true nature and the feelings he has for her, she also learns Asher's love puts her in mortal danger.
Prophesied long ago, the ancient bridges connecting Earth to the other eight worlds are opened. The Alfar descend upon Earth and the Kine must emerge from their hidden life to take up their role as Man's protectors.
Without Asher, the Kine will fall and Man with them.
To defeat the Alfar, Asher must give up any hope of a human life with Charlee.
Love. Duty. An impossible choice that must be made.
Man's survival depends on it.
____
Tracy Cooper-Posey is an Amazon #1 Best Selling Author. She writes romantic suspense, paranormal and urban fantasy romances. She has published over 70 novels since 1999, been nominated for five CAPAs including Favourite Author, and won the Emma Darcy Award.
She turned to indie publishing in 2011. Her indie titles have been nominated four times for Book Of The Year and Byzantine Heartbreak was a 2012 winner. She has been a national magazine editor and for a decade she taught romance writing at MacEwan University.
She is addicted to Irish Breakfast tea and chocolate, sometimes taken together. In her spare time she enjoys history, Sherlock Holmes, science fiction and ignoring her treadmill. An Australian, she lives in Edmonton, Canada with her husband, a former professional wrestler, where she moved in 1996 after meeting him on-line.
DELIVERED FROM THE DARKNESS, A WOMAN FINDS HERSELF PLUNGED INTO A PASSION THAT IS DEEPER THAN MIDNIGHT.
At eighteen, Corinne Bishop was a beautiful, spirited young woman living a life of privilege as the adopted daughter of a wealthy family. Her world changed in an instant when she was stolen away and held prisoner by the malevolent vampire Dragos. After many years of captivity and torment, Corinne is rescued by the Order, a cadre of vampire warriors embroiled in a war against Dragos and his followers. Her innocence taken, Corinne has lost a piece of her heart as well—the one thing that gave her hope during her imprisonment, and the only thing that matters to her now that she is free.
Assigned to safeguard Corinne on her trip home is a formidable golden-eyed Breed male called Hunter. Once Dragos's most deadly assassin, Hunter now works for the Order, and he's hell-bent on making Dragos pay for his manifold sins. Bonded to Corinne by their mutual desire, Hunter will have to decide how far he'll go to end Dragos's reign of evil—even if carrying out his mission means shattering Corinne's tender heart.
WHAT IM HOPING TO READ NEXT WEEK
An immortal war has been brewing in the darkness . . . And now one woman has stumbled into the shadows.
Chicago private investigator Kira Graceling should have just kept on walking. But her sense of duty refused to let her ignore the moans of pain coming from inside a warehouse just before dawn. Suddenly she finds herself in a world she's only imagined in her worst nightmares.
At the center is Mencheres, a breathtaking Master vampire who thought he'd seen it all. Then Kira appears, this fearless, beautiful . . .
human
who braved death to rescue him. Though he burns for her, keeping Kira in his world means risking her life. Yet sending her away is unthinkable.
But with danger closing in, Mencheres must choose either the woman he craves, or embracing the darkest magic to defeat an enemy bent on his eternal destruction.
Ok that is my books for the past week and the week to come, now I cant wait to see what yours are. xx