Hosted by Book JourneyIt's Monday! What Are You Reading is where we share what we read this past week, what we hope to read this week…. and anything in between! This is a great way to plan out your reading week and see what others are currently reading as well… you never know where that next "must read" book will come from!
What I read this weekend.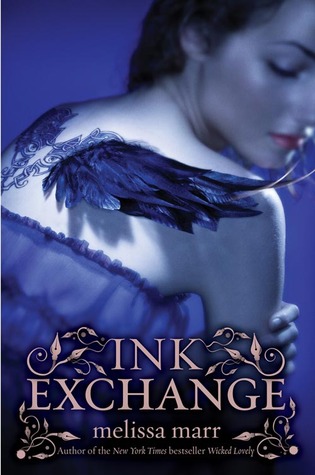 Unbeknownst to mortals, a power struggle is unfolding in a world of shadows and danger. After centuries of stability, the balance among the Faery Courts has altered, and Irial, ruler of the Dark Court, is battling to hold his rebellious and newly vulnerable fey together. If he fails, bloodshed and brutality will follow.
Seventeen-year-old Leslie knows nothing of faeries or their intrigues. When she is attracted to an eerily beautiful tattoo of eyes and wings, all she knows is that she has to have it, convinced it is a tangible symbol of changes she desperately craves for her own life.
The tattoo does bring changes—not the kind Leslie has dreamed of, but sinister, compelling changes that are more than symbolic. Those changes will bind Leslie and Irial together, drawing Leslie deeper and deeper into the faery world, unable to resist its allures, and helpless to withstand its perils.
Im finding this book a little slow compared to the last book and iv not got much left to read. I hope the ending picks up.
Trying to flee her hallucination of a demon, she runs heart first into the brooding alpha male she's been dreaming about for years, and then her nightmare really begins.
Kris Pietka is done with women . . . he's broken. But when he meets Golden, an overwhelming need to protect her tests everything he thought he knew about himself, and the paranormal.
A bond forged centuries ago thrusts them together as they search for a way to break an ancient Druid curse prophesying their demise. Racing against the clock, they travel from Vermont, to the Carpathian Mountains in Poland, and the Scottish Highlands in search of answers and a way to break the curse.
But something evil watches—it covets, and time is running out.
Will fate allow love to prevail against unbeatable odds, or will Golden wake to find it was all a delusion?
Other books iv found this week.
This book begins with a young and naive Elaine Brogan as she initially pursues her dream of a career as a photomodel. After becoming entangled with a sleazy modeling agency, she decides to become a Secret Service agent, struggling through the arduous training academy. After her first disastrous assignment, she is transferred to Bulgaria. There, she meets Nick LaGrange, the love of her life.
I found this book through a man on twitter, and I thought it looked interesting. If your Interested your self then its on free download on the mans site .