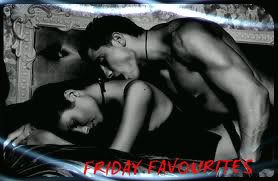 Well I'm pleased to tell you that Friday Favourites is now back and with a sexy new look. Friday Favourites is where I come and tell you who my favourite book person of the week is, now this can be male or female and from any book you like. If you would like to join in the weekly fun and maybe meet new people from other blogs then please leave your link so we can all follow you.xx
So my favourite this week is going to be an author this week, Rachel Caine is one of my favourite authors and I have to say that Iv been given a signed book *squeel*. Her last book had me on the edge of my seat and when it was over I felt really sad bceause I just wanted to keep reading.
Rachel Caine is the
New York Times
,
USA Today
and internationally bestselling author of more than 30 novels, including the immensely popular Morganville Vampires series, the Weather Warden series, and the Outcast Season series.
In 2011, Rachel published the first novel of her new series, The Revivalist, with the release of
Working Stiff
in August.
She has been honored with a Paranormal Pearl Award and an RT Booklovers Award, and was recently awarded a Career Achievement Award from Romantic Times. Her first young adult novel,
Glass Houses
, was chosen for the Texas Tayshas List in 2009.
Rachel has appeared as a guest at over 100 science fiction, fantasy, mystery and romance conventions and conferences over the past 20 years, including Dragon*Con, San Diego ComicCon, the World Fantasy Convention, and the World Science Fiction Convention. She has been featured in several national publications including
People
magazine,
Entertainment Weekly
, and
Vanity Fair,
and on international, national and local television and radio.
She was born at White Sands Missile Range, New Mexico, attended Socorro High School in El Paso, Texas, and earned a bachelors degree in business administration from Texas Tech University. She's worked in many jobs, including accounting, graphic designer, insurance investigation, corporate communications, and web design, to name just a few. She became a full time writer in 2010.
Rachel is married to award-winning fantasy artist R. Cat Conrad, and has two iguanas as pets: Popeye and Darwin (seen at right).
I know that this post is normaly aimed at the character in the books but I fell so in love with Rachels last book that I thought I would give her a shout out. All so keep an eye because I will be having none other then Eve and Claire from The morganville Vampires and they will be giving away a copy of Rachels new book Black Dawn.