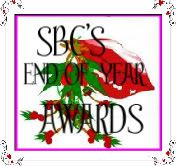 Hi everyone, I'm here today with a very late post, this was meant to be posted at the end of last year but as many of you know iv been very ill and not been able to do much on my blog. But today I'm here to tell you who are the winners of SBC Awards.You will find iv given two names for some awards, This is because there was so many nominations for them and i couldn't pick just one.
author of the year
blogger of the year
reviewer of the year
facebooker of the year
on line friend of the year
most amazing person
So are we ready to find out who are winners are?. well here goes.
Queen Tutts world of Escapism
Id like to say congrats to all these people and ask them to keep up the amazing work.