Ok people im starting a new post on a Friday and im going to tell you a little about my favourite book people. If any of you who run blogs would like to join in and do a post on your blogs with your favourite book people let me know and ill leave a link at the bottom of each post every week telling my followers to pop on over and check it out. and at the end of your post if you could do the same for me.
This weeks favourite book person is Cathrine Crawfield from Jeaniene Frost's Half Way to the Grave.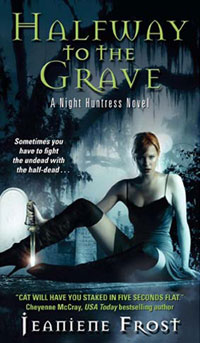 Half-vampire Catherine Crawfield is going after the undead with a vengeance, hoping that one of these deadbeats is her father – the one responsible for ruining her mother's life. Then she's captured by Bones, a vampire bounty hunter, and is forced into an unlikely partnership.
In exchange for help finding her father, Cat agrees to train with the sexy night stalker until her battle reflexes are as sharp as his fangs. She's amazed she doesn't end up as his dinner – are there actually good vampires? Pretty soon Bones will have her convinced that being half-dead doesn't have to be all bad. But before she can enjoy her status as kick-ass demon hunter, Cat and Bones are pursued by a group of killers. Now Cat will have to choose a side … and Bones is turning out to be as tempting as any man with a heartbeat.
I love Cat because she is a female who can kick ass. It makes a change a change to have a female who doesnt sit back and let the man do all the fighting.