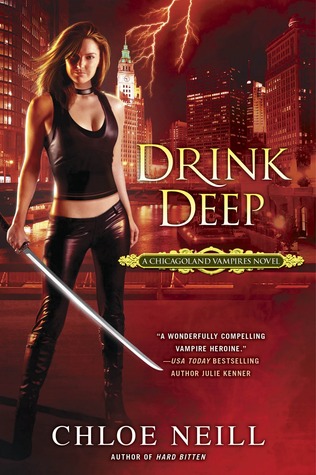 Title : Drink deep
Author: Chloe Neill
Series: Chicargoland Vampires
Date Published: April7th 2009
Description:
Clouds are brewing over Cadogan House, and recently turned vampire Merit can't tell if this is the darkness before the dawn or the calm before the storm. With the city iself in turmoil over paranormals and the state threatening to pass a paranormal registration act, times haven't been this precarious for vampires since they came out of the closet. If only they could lay low for a bit, and let the mortals calm down.
That's when the waters of Lake Michigan suddenly turn pitch black-and things really start getting ugly.
Chicago's mayor insists it's nothing to worry about, but Merit knows only the darkest magic could have woven a spell powerful enough to change the very fabric of nature. She'll have to turn to friends old and new to find out who's behind this, and stop them before it's too late for vampires and humans alike.
Review: In this book the house is upside down, they have got someone sent to get the house back into shape. but its clear from the start that he is there to make things
worse.
another supernatural problemm kicks off and yet again its down to Merit, from a river sucking magic from everything to red Sky's and mountains popping up everywhere they shouldn't. As per-usual its up to Merit to get to the bottom of things but she is kind of glad of the distraction from her personal life.
Merit leans on another friend for help in this book and they both start to grow close ( which I wasn't to happy about) . as there working to find the problem and who is to blame, they find they might have to look closer to home for the culprit. (which I seen coming).
Another book I loved, Ill admit I had the story line guessed from the start. But that didn't take away from my enjoyment. The last book left on a bit of a cliffhanger and I found I had to skip to the ending in this book to see where it went. I'm really hoping no more of the books have any of the same cliffhangers because I just cant take it lol. I love the vampire world that Chloe Neill has created and I do find my self wishing I was apart of it. I love the friendship and team work of all of the characters. I really do think this book is a must read, if you haven't read it already. witty,funny, and action packed. you wont be disappointed.
RATING OF 4 LIPS.