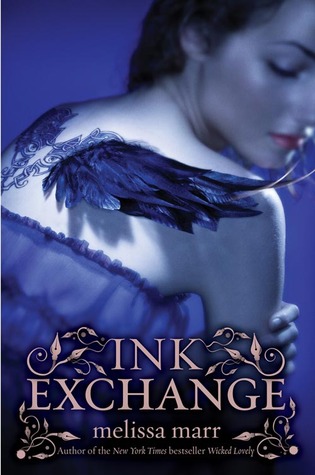 Title: Ink Exchange
Author: Melissa Marr
Series: Wicked Lovely #1
D
ate Published:
24th april 2008
Discription:
Unbeknownst to mortals, a power struggle is unfolding in a world of shadows and danger. After centuries of stability, the balance among the Faery Courts has altered, and Irial, ruler of the Dark Court, is battling to hold his rebellious and newly vulnerable fey together. If he fails, bloodshed and brutality will follow.
Seventeen-year-old Leslie knows nothing of faeries or their intrigues. When she is attracted to an eerily beautiful tattoo of eyes and wings, all she knows is that she has to have it, convinced it is a tangible symbol of changes she desperately craves for her own life.
The tattoo does bring changes—not the kind Leslie has dreamed of, but sinister, compelling changes that are more than symbolic. Those changes will bind Leslie and Irial together, drawing Leslie deeper and deeper into the faery world, unable to resist its allures, and helpless to withstand its perils..
In this book we meet Leslie, she is going through a bad patch in life having to struggle with things that are happening to her in her life. she is scared to be at home were her family has fallen to bits and her brother sold her to a drug dealer. looking to take charge of her life, she looks for something to give her the courage to go on. She decides to get a tattoo . but the tattoo she picks turns out not to be an ordinary tattoo, it is a link to a world Leslie knew nothing about. Leslie has to fight the effects of the tattoo, so she can take charge of her life.
Irial is the king of the Dark court , he needs to find a way to feed his people. His people feed on dark emotions and without letting them go to war with the other courts he has no way to feed them, until the ink exchange. He just need one human to wear his tattoo and he can syphon there emotions and feed his people. But he never expected to develop feelings for the human girl wearing his mark.
Hmmm what do I think of this book. well I don't think its as good as the first but I did enjoy it. It started off really slow but by the end of it I liked it. I loved Leslie, she was strong in surprising ways. even after everything she had been through , she still managed to pull her self out from the dark courts hold.
This book is a lot darker then the first book, but still really well written. This book had more of a gruesome feel to it. if your squeamish then prepare yourself when you start this book. its not for the faint hearted.
I love the characters in this book, there is such a great variety and i cant wait to learn more about them in the future books.
There is only really one thing that disapointed me about this book and thats the no happily ever after. I missed the whole boy meets girl and fall in love aspect of the book. but maybe this will be corrected in future books.
RATING OF 3 LIPS